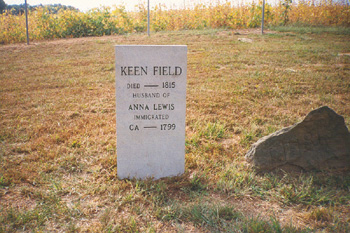 The Field Family is a large and prominent family originating in England and immigrating to Virginia sometime around 1635. The name Field derives from an area of land from which the trees have been "feld" thus leaving an open "field". The Field family traditionally descends from Hubertus De La Feld (1030-1092) of Alsace-Lorraine. He is said to have immigrated to England at the time of William the Conqueror (about 1066). The first immigrant of our line to reach the North America is thought to be Henry Field (1611-) son of John Field, Jr. (1559-) of Boston, Lincolnshire, England. Henry arrived in the Virginia, in 1635 on the ship Expectation. However, we consider Abraham Field (1636-1674) of Westmoreland County, Virginia, to be the earliest verifiable ancestor of this branch of the family. He is the first of our line we can document as being the ancestor of our line. He is often stated to be the son of Henry, the immigrant. Many Field family researchers have searched for documentation to substantiate the relationship of Henry and Abraham but as yet no one has ever found verifiable proof of this relationship.
This branch of the Field family remained in Virginia living in Westmoreland and Culpeper Counties for some time but eventually moved to Kentucky. While in Virginia many of the Fields were tobacco farmers and slave owners. They were active in civic matters and many were justiceses of the peace and magistrates. They were active in the Anglican Church serving as vestrymen for the church. At one point Daniel Boone hauled tobacco for the Field family. The family owned property along the Rappahanock River. There are still landmarks in Culpeper County, Virginia, that are reminders of the Field family legacy. Among of theses are Field Mill Road, Field's Mine, Field's Mill and Field's Ford. There are at least two cemeteries in Culpeper County where Field family members are buried. One is the Field/Kelly Cemetery and the Old Field Burial Ground on Field Mill Road. Descendants of the family still reside in this area of Virginia.
Abraham Field (1744-1822) and his family settled in Jefferson County, Kentucky in 1784. He followed William Clark to the Falls of the Ohio, the site of Louisville, Kentucky. Here he lived with his wife Elizabeth (Betty) for the remainder of his life. Abraham had a severe shoulder wound suffered during the battle of Point Pleasant, October 10, 1774. During this battle his uncle Col. John Field was killed. Abraham's wound prevented him from being a farmer but he was able to work as a guide, hunter and surveyor. Because of his war related injury he was eligible for a life long military pension. To maintain his eligibility he was required to report to court annually to prove he was still living and as a result he left a paper trail of his life in Jefferson County, Kentucky. Abraham and Elizabeth had seven children. Their oldest son, Ezekiel, was a farmer and professional salt maker. He was a prominent person in the area and had several children and, like his father, left a record of his life.
Two other sons of Abraham and Elizabeth were Joseph and Reubin. They were two of the Nine Young Men from Kentucky that accompanied Meriwether Lewis and William Clark as members of the Corps of Discovery, 1803 - 1806. There are many accounts of the activities of the Field brothers as they traveled with Lewis and Clark from the Falls of the Ohio to the mouth of the Columbia River on the Oregon/Washington coast of North America. Both returned with the Corps. Joseph died within the first year of his return and there is speculation he was killed in a battle with Indians as they were returning a Mandan Chief to his tribe. The fact of his death was noted on the cover of Clark's Journal but not the cause of his death. Reubin returned to his family in Kentucky and married Mary Myrtle, a daughter of John Myrtle. They had no children and spent the rest of their lives as farmers in the Salt Creek area.
Another son, Keen Field (abt. 1774-1815) moved on to Gibson County, Indiana, sometime around 1799.5 Keen was married to Anna Lewis. They settled on Military Donation 10 near the Patoka River. Here they carved out a life in the wilderness and raised a family of ten children. A large majority of the people in this branch of the Field family descend from Keen and Anna. Keen and some of his sons remained in Gibson County and like Fields in other places became a prominent family in the area. Descendants of Keen and Anna have moved to northern Indiana, Illinois, Missouri, Colorado, Montana, Oklahoma, Texas and California.
Our direct branch of the family remained in Gibson County, Indiana, as farmers and land owners until George Emery Field, (1849-1915) moved north to Valparaiso, Porter County, Indiana, in the late 1800's. He had married Lavica Hinkle after the death of his first wife, Sarah Jane Knaub and his son Wilbur Wallace. He had several jobs during his life. He was a printer, a florist, a teacher and a private detective. His son, Harvey married Marie Jeanette Eddy.
Marie is our mystery ancestor. She was born in New York City and was orphaned at birth. Her mother was possibly a woman named Mary Driscol. Her father is really unknown. There are several possibilities. There is some evidence it could have been a man named Jeremiah Driscoll. Marie was adopted from a New York orphanage by Elbert H. Eddy. The story is that he brought Marie home to Chicago and told his wife that they would be raising this child. Elbert H. had a son, Elbert Bertram Eddy, who was born in 1868. He was 24 years older that Marie. There is speculation that Elbert Bertram might have been Marie's father or possibly Elbert H. was her father. Elbert H. died just a two years after he adopted Marie and she was raised by her step mother Maria Smith Currier. Elbert Bertram had two daughters, Agnes and Olive. They referred to Marie as their aunt but could have been step sisters. They were nearly the same age as Marie. There was some contact between Marie and Agnes and Olive over the years but not a lot. The story is the Marie was not treated very well by Maria Currier. At 18 Marie married Harvey Oliver Field, a son of George and Lavica Field. Harvey was a dominant man and made most of the family decisions but Marie was devoted to him. There were times in later life when Marie was very ill and recovery seemed impossible but she would say she had to get well to get home and take care of Harvey. Harvey died unexpectedly of a heart attack and Marie died just one week later.
Harvey and Marie owned the Nappanee Advance News. He was a member of the city consul, the school board and the Methodist Church. Harvey and Marie had a family of eight children. Six survived to adulthood. In 1945, Howard Allen Field (1911-1988) Harvey and Marie's second son, moved his family to California (our family). Many descendants have remained in Indiana. It was in California that I grew up and had my family. I married Anne Healy in 1968 in Adelaide, South Australia. We had two children, Lucie and Victor. It is Lucie and I that author this web site.
As with many families there are many unanswered questions. We have already mentioned the possible but unproven connection of Henry Field, immigrant from England, and Abraham Field of Westmoreland County, Virginia. Another Field family tradition is that Henry had three brothers, Richard; Darby and Robert. There was a Darby Field that immigrated to Boston, MA, in 1638. He eventually moved to Dover, New Hampshire. He is the ancestor of the New England branch of the Field family. Today with DNA testing it would be possible to demonstrate a possible link between the Virginia and the New England branches of the Field family. I have had my Y chromosome analyze and the results appear on another page of this web site. I have been contacted by another person with the surname of Field and his DNA matches mine perfectly. He know he descends from a man named Thomas Field from Virginia. The common ancestor of this man and I has not been determined but it is highly probable that we both descend from Abraham of Westmoreland County, Virginia. It would be extremely interesting if a proven descendant of Darby Field would have a Y chromosome DNA test and compare the results with mine. If there is a match then this would support the tradition of the relationship between Henry and Darby. It would not be absolute proof because these men could have both descended from a common male ancestor and not have actually been brothers. However this would tie together these two very large branches of the American Field families.
If anyone reading this web-page who knows they have a connection to this branch of the Field family we would love to hear form you. Our goal is to locate as many people as possible that descend from Abraham Field of Westmoreland, Virginia.