Eugene A. Field,
January 20, 1941 – January 20, 2013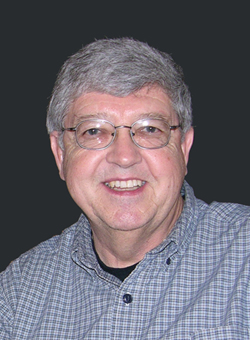 Gene Field died peacefully in Hughson, Ca. He was born in Nappanee, Indiana, on January 20, 1941, and was the eldest of three sons of Howard A. Field and Miriam E. Grasz. His family moved to Turlock, Ca in 1941 and in 1950 to Fresno, Ca. where he graduated from Roosevelt HS in 1959.
Gene earned his BA in Biology and MA in botany, as well as a teaching credential at Fresno State University, Fresno, Ca. While in college (1959-1967) he worked at Tuolumne Meadows Lodge in Yosemite National Park in the summers where he met his future wife, fellow employee, Anne E. Healy.
After college he sailed to Australia in 1967 where he taught science for three years to high school students at Westminster College, a private boy's school in Adelaide, South Australia. In 1968 he married Anne and they had two children. He returned to California in 1970, and the following year moved with his family to Patterson where he taught biology at Patterson High School from 1971 to 2004. Beginning in 2003 he taught biology for Modesto Junior College and ran the Patterson Adult Education Program from 1986 to 2012. In 1994 he was awarded the School Bell Award for Stanislaus County. In 2004 he received the Stanislaus County Teacher of the Year award as well as the AMAE Award from the Assn. of Mexican American Educators.
Gene enjoyed his years of teaching, as well as many hobbies: photography, gardening, growing palm trees and raising chickens and parakeets. He was an avid genealogist and spent many years with his daughter working on his family history and maintaining a family webpage. He traveled to many destinations including Australia, the South Pacific, Hawaii, Costa Rica, China, New Zealand, Brazil, and Europe. He also traveled extensively around the U.S. His favorite places were Death Valley, the Southwest and Indiana to visit family.
He was preceded in death by his parents and brother John W. Field. He is survived by his children, Lucie of Patterson and Victor of Murphys, Ca., a brother, Dennis "Pody" Field (Cathy) of Kingsburg, Ca.; a sister-in-law Diane Field of Montreal, Canada; 2 nieces, Suzanne Field (Jimmy McColery) of Alameda, Ca. and Clover Still (Preston) of McCall, Idaho. Burial will be at the Patterson District Cemetery. A Memorial will be held Saturday, January 26, at 1:00 p.m. at the Patterson High School Auditorium, 200 N. 7th St.
In lieu of flowers, donations may be made to Yosemite Conservancy, www.yosemiteconservancy.org, or Patterson High School's PRIDE for a memorial scholarship in the name of Eugene Field, PO Box 1543, Patterson, CA 95363. Please include a note with his name.

The obituary appeared in the Patterson Irrigator, Patterson, California, 24 Jan. 2013 & in the Modesto Bee, Modesto, California, 23 Jan. 2013
It also appeared in a shorter format in the Elkhart Truth in Elkhart, Indiana, 24 Jan. 2013